Categories:
Weddings, Private, Public
Helena and Petes Wedding at Thorpness Country Club
Saturday The 18th June 2022 we catered at Helena and Petes wedding at Thorpness Country Club. Ashley And Chase catered for them, and the evening went very well with beautiful outlook over the cliffs for their celebration. We Managed to finish our service before the storms came after 11pm! Everyone seemed to be having a great time and Pete left us a great 5* review on google.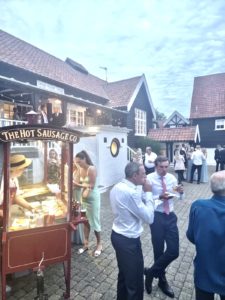 "Just had our wedding this Saturday and the sausage van went down an absolute treat. We had them from 8.30 – 10.30 and this was the perfect night snack to make sure guests didn't go hungry later on. We had guests getting multiple hot dogs they enjoyed them so much – the feedback we got was people loved it. They cater for all dietary requirements too. Thanks guys!!"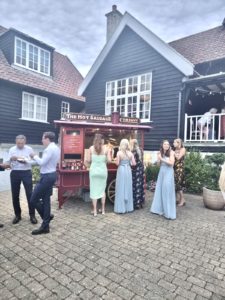 Thank you, Pete and Helen for booking us, we know it was a booking taken two years before and postponed due to covid. We all got their eventually. Everyone at Hot Sausage Company wish you congratulations and have a wonderful life together.
Back to News
Copyright 2022 The Hot Sausage Company. All rights reserved.