FREE SAUSAGES!!!!
Why give away a 1000 hot dogs?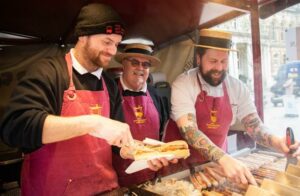 Now the dust has settled on our recent free Ipswich hot dog day and with the Colchester free hot dog day approaching I thought I would reflect on the day and thoughts behind the doing them.
The previous times we've done this it has been to celebrate a landmark of years trading thankingour customers old and new. This time we didn't have a landmark to celebrate but we did have a town.
What we really wanted to do was to something positive in the town centre. The town centre has changed a lot over the years with lots of major retailers pulling out in favour of large retails parks or folding completely due to the pressure of online shopping, most notably Debenhams. I think this has led to lots of negativity towards it and getting a reputation as dying and being unsafe.  I don't agree with these sentiments. The town centre has changed that can't be argued but I don't think it is finished.
We all long for the nostalgia of how the town used to be and our shopping trips out with parents and the wide variety of shops but I think the story is going to be the same for most towns, online shopping has changed the high street for good and the variety isn't going to be there anymore. The town centre is still there though and there are other reasons to go to town now not just an extensive shopping trip.
Going to town wasn't and isn't always purely about a shopping trip especially now. It's about getting out of the house, meeting a friend, grabbing a coffee, grabbing a beer, grabbing a hot dog from the best hot dog stand in the world! Or visiting one of the many other independent businesses around the town. All these are positive things the town centre has to offer and the things we have to celebrate. Sadly, these aren't the things that are spoken about the most and of what people talk about is the negative.
We've had enough of negativ
e! We wanted some positivity, even if it is only for a day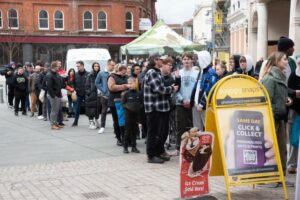 Since our last giveaway the world has suffered through a pandemic (among lots of other things) and this hit us very hard. We would not have survived if it wasn't for our loyal customers in both Ipswich and Colchester. This is the other reason we wanted to do a giveaway.We are forever grateful for people for continuing to support us during the toughest times,  and for the support you are giving us now during a cost-of-living crisis we. You are being hit with price increase after price increase. We feel it too, so we know you all must be feeling it and we wanted to thank everyone for this!
So there we go that's the reasoning behind why we wanted to do this. Sure not all of the comments about have been positive but we don't mind, we served 1000 hungry people in Ipswich of all ages, race and position and we really enjoyed doing it. We're looking forward to doing it again in Colchester!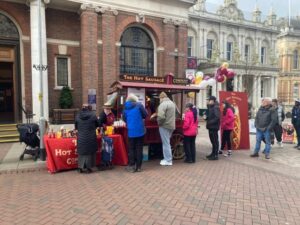 Thanks for reading
Josh
Back to News
Copyright 2023 The Hot Sausage Company. All rights reserved.