Meet the team: Josh
Co-Owner of The Hot Sausage Company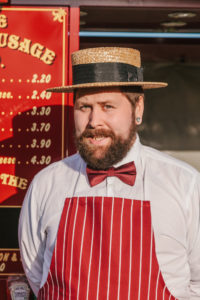 Hi, I'm Josh, I own The Hot Sausage Company along with my dad Andrew. The business has been running basically my whole life. This is me around the time it was started!
It's been 33 years since then and 17 years since I first started as a Saturday worker, A lot of change has happened in that but the core of the business is still the same a great product with great service!
 I've worked in full time in the business for the past 12 years or so slowly taking on more and more of a role in the day to day running of the business.
My Wife Lisa has recently come in to take the role of Events manager so you may speak to her if your interested in hiring us for something! We have 2 boys together.
Sometimes it feels like all I do is work but I do find time to play football a couple of times a week.
Back to News
Copyright 2023 The Hot Sausage Company. All rights reserved.